Treatment range
---
SHR OPT IPL filters
Wavelenght Application
430-1200nm Acne removal,
480-1200nm Age spots pigment removal, skin rejuvenation,
530-1200nm Freckle removal,skin rejuvenation,
560-1200nm Whitening skin,skin rejuvenation,
590-1200nm Vascular removal,fade melasma skin rejuvenation,
640-1200nm Hair removal (yellow skin )
690-1200nm Hair removal(white skin)
750-1200nm Hair removal (black skin)
➢RF handle

●Skin lifting, tightening. and whitening,
●New collagen stimulation and production,
●Removes fine lines and wrinkles,
●Facial remodeling and body contouring,
●Visibly minimize pores,
●Circumterence and cllulitle reduction,
●Body Shaping areas abdomen, buttocks, thighs, neck, upper arms.
➢Laser handle
●1064nm Wavelength: Remove black and dank blue tattoopigments, such as tattoo, eyebrows, dark color around the eyes,freckle, age spot etc.
●532nm Wavelength: Remove red and brown tattoo and red mark.
●1320nm big spot size head with carbon cream to do skin rejuvenation, shrink big pore.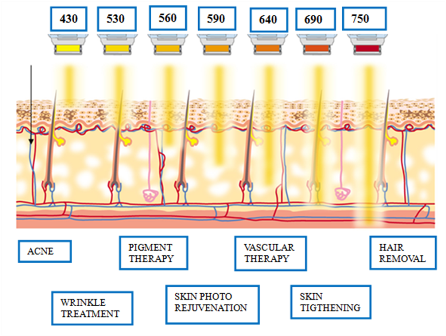 Specification
---









Basic Specifications

Controller

Real Color8.4''Touching Screen

Pulse Number

1-15

Program Languages

English/Spain/German/French/Turkish/as client request

FirstPulse Width

0.1-20

First Pulse Delay

0--50

Cooling System

Wind+Water+Semi+Conductor

Conduct Temperature

5°c~25°c

Dimension of machine

47*50*113 cm3

Dimension of package

68*76*136cm3

N.W.

90Kg

G.W.

140Kg

Power Supply

AC220V/50HZ or AC110V/60HZ

IPL system

IPL Energy

10-50J

RF energy

0-15J

RF frequency

1.2MHZ

Handpiece number

1pc,with 7filters optional

Wavelength

430nm/480nm/530nm/560nm/640nm/590nm/750nm

Spot size

15mm*35mm or 15mm*50mm

IPL system

IPL Energy

10-50J

Pulse No.

1-15

Handpiece number

1pc

Spot size

15mm*35mm or 15mm*50mm as client choice

RF system

RF energy

0-50J

RF delay

50-2500ms

RF frequency

1MHZ

Interval

1-4s

Handpiece number

1pcs with 3 probes

Diameter long

21mm,25mm,35mm

Laser System

Energy

200-1000MJ

Handpiece number

1pcs

Wavelength

1064nm,532nm,1320nm

Laser Frequency

1-5HZ

Protective Accessories

Protective Goggles

2pcs(1pcs for Laser,1pcs for IPL & Elight)

Protective Glasses

2pcs(1pcs for Laser,1pcs for IPL & Elight)

Teach Guide

Guide Manual

1pcs

Guide Video

online


Feature
---
1.Upgrade edition set: Insert handleHE-3and Laser hand piece HY-3 and RF handle,
2.Elight 4in1 multifunctional equipment: ELight+IPL+RF+Laser ,
3. Work a longtime with high energy, beauty salon first consideration ,
4.Advanced non-stripping, non-damaging skin rejuvenation technology, remove speckle, hair and make skin rejuvenation simultaneously,
5.Unique pigment identification procedure, super-ray filtration system, multiband alternative precision adjustable.