Technical

Standard

Light Source

Q-switches Nd: YAG Laser

Pulse Energy

0 - 1000MJ/cm2

Wave Length

1064nm & 532nm &1320nm

Power Supply

AC220V/50Hz or AC110V/60Hz

Pulse Width

0 - 15ns

Facular Diameter

1mm - 10mm

Repeat Frequency

1Hz - 6Hz

Cooling System

Winding Cooling

Water Cooling

Semi-conductor Cooling System

Treatment Area

1mm2 - 10mm2

Instrument

Standard

Outer Dimension

43.5×38×41.5cm3

Inner Dimension

42×25×36cm3

Gross Weight

20KG

Net Weight

15KG

Working

Condition

Conduct Temperature

5 - 25

Relative Humidity

≤70%

Barometric

860hPa - 1060hPa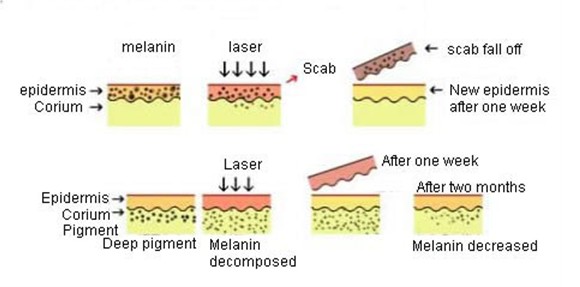 Without any doubts, the QSwitched Nd:YAG 1064 nm/532 nm laser is the leading technology
for tattoo removal. The mechanical effect of the laser fragments the ink in smaller components,
which allows your immune system to process them naturally. With the 2 wavelengths a wide range
of tattoos can be treated. The 1064 nm is most effective for the removal of dark inks such as black,
dark blue and brown, while the 532 nm is effective for red, orange and purple tones.
While tattoos were once considered permanent, it is now possible to remove them with treatments,
fully or partially. The "standard modality for tattoo removal" is the non-invasive removal of tattoo
pigments using Q-switched lasers.